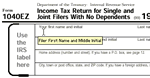 The library no longer keeps paper copies of tax forms, but you can print any IRS or Illinois Dept. of Revenue form or instructions in the library! We have both web sites linked on all our computers in the library. There is no cost for printing, and our laser printers will give you excellent copies to work on.
Need to work from home?
Link to the IRS website at http://www.irs.gov/ or to the Illinois Dept. of Revenue at http://www.revenue.state.il.us/taxforms/index.htm
Need help finding a form? Ask the librarian.