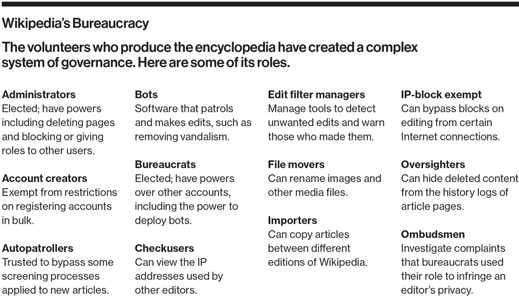 The sixth most widely used website in the world is not run anything like the others in the top 10. It is not operated by a sophisticated corporation but by a leaderless collection of volunteers who generally work under pseudonyms and habitually bicker with each other.

[…]

Because there is no other free information source like it, many online services rely on Wikipedia. Look something up on Google or ask Siri a question on your iPhone, and you'll often get back tidbits of information pulled from the encyclopedia and delivered as straight-up facts.

Yet Wikipedia and its stated ambition to "compile the sum of all human knowledge" are in trouble. The volunteer workforce that built the project's flagship, the English-language Wikipedia—and must defend it against vandalism, hoaxes, and manipulation—has shrunk by more than a third since 2007 and is still shrinking.
The Decline of Wikipedia: Even As More People Than Ever Rely on It, Fewer People Create It | MIT Technology Review.