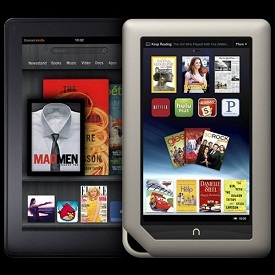 Just remember: editors matter
Rogue self-publishers have been stuffing the comics sections of the Nook and Kindle online stores with an entirely different kind of graphic novel, turning Barnes & Noble's flagship device briefly into a "Nookie Tablet."

It's a rule of the Internet. Stop editing and moderating, just for a minute, and everything will turn to porn and spam. That seems to have happened on the Nook, and, to a lesser extent, the Kindle.

Self-publishing has turned bookstore shelves from "seller cares" to "buyer beware," with apparently no guarantees of quality or even that the content is what it says it is. With Barnes & Noble and Amazon apparently abdicating any preemptive editorial control, it's now a free-for-all online.
Self-Publishers Stuff Nook, Kindle Comics Stores With Porn | News & Opinion | PCMag.com.