The library at Waubonsee Community College offers many services  that support mobile technologies.  The two newest services this year include our "KwikBoost" charging stations and our "Library Text Alerts" service.
KwikBoost charging stations have been placed in locations within the Sugar Grove and Aurora campus libraries. Â These stations offer reliable, fast charging for mobile devices.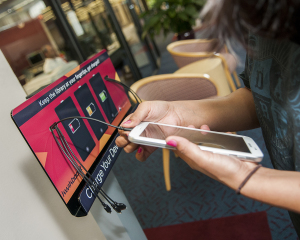 Don't worry if you don't have your charging cable with you, our KwikBoost stations are already equipped with connectors that fit  a wide variety of phones and tablets.  To use a station just plug your device into the appropriate cable, place the device in the caddy on front, then have a seat in one of our comfortable chairs and relax with a book or magazine.  You may even want to work on writing that paper you've been procrastinating on, but if you don't we won't judge.
Have you ever placed a hold on library materials and then found out they were already waiting for you after you got home? Â Have you ever forgotten about having checked out a book and let it get overdue? Have you ever missed a notification from the library because you forgot about checking your student e-mail address? Â  We all have, don't worry you're not the first. Â The Waubonsee Community College libraries now offer a great new service that lets you opt-in to receive text messages to help you stay current with your library account.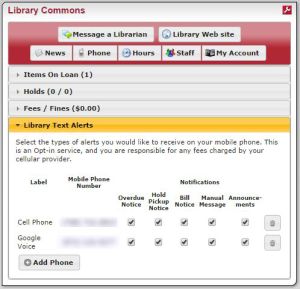 To get started receiving text messages sign in to mywcc and select the library tab at the top of the screen.  Next, click the "My Account" button in the "Library Commons" window.  From there, choose "Library Text Alerts".  You will be presented with options for adding and removing  phone numbers and for indicating the types of notifications you would like to receive.    Simply make your selections and sign out of mywcc when you are finished.
Remember, your phone provider may charge you for text messages and you, not Waubonsee Community College, will be responsible for any charges incurred.  We will make every effort possible to keep the number of messages sent to a minimum.  If you ever want to change what notifications you receive just return to the "Library Commons" and update your preferences.