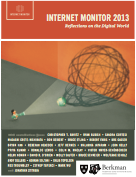 Internet Monitor is delighted to announce the publication of Internet Monitor 2013: Reflections on the Digital World, our first-ever annual report. The report—a collection of essays from roughly two dozen experts around the world, including Ron Deibert, Malavika Jayaram, Viktor Mayer-Schönberger, Molly Sauter, Bruce Schneier, Ashkan Soltani, and Zeynep Tufekci, among others—highlights key events and recent trends in the digital space
[…]
The full report and individual chapters are available for download from the Internet Monitor website.
An interactive, full text version of the report is available on H2O, where you can remix, share, excerpt, and comment on each essay: H2O: Internet Monitor 2013.
About Internet Monitor
Internet Monitor, based at the Berkman Center for Internet & Society, is a research project to evaluate, describe, and summarize the means, mechanisms, and extent of Internet content controls and Internet activity around the world. The project compiles and curates data from multiple sources, including primary data collected by the Berkman Center and our partners, as well as relevant secondary data. Internet Monitor will create a freely available online fact base that will give policy makers, digital activists, and user communities an authoritative, independent, and multi-faceted set of quantitative data on the state of the global Internet. The project also produces annual reports that compile this information and provides expert analysis on the state of the global Internet.