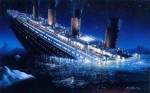 C. Q. D. …..C.Q.D….
100th Anniversary of the sinking of the Titanic
In memory of those who lost their lives and to honor those who were left behind, we have a special display this month concerning this most tragic event in history.
Come visit us at the Todd Library and check out information on the "unsinkable Titanic".