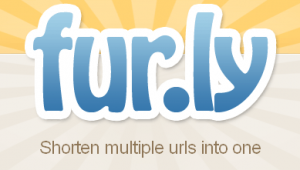 Fur.ly, like bit.ly and tinyurl.com before it, is a URL shortener.  But it also has a special feature: it will shorten multiple URLs into one URL.  So if you want to share a gaggle or collection of links with a group of people, use fur.ly and share the fur.ly-generated link.  It is that easy.
Here is an example: this fur.ly link [http://fur.ly/1rkj] will take you to my favorite reference sites on the web (answers.com, Internet Public Library, refdesk.com and Bartleby.com) in one fell swoop.
Just remember, Fur.ly is a good way to  gather/aggregate info and make it easy to deliver.