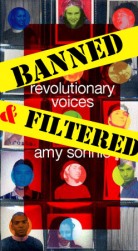 Off the list this year are such classics as Alice Walker's "Color Purple"; "To Kill A Mockingbird" by Harper Lee; "Catcher in the Rye" by J.D. Salinger; and Robert Cormier's "The Chocolate War." Replacing them are books reflecting a range of themes and ideas that include "Brave New World" by Aldous Huxley; "The Absolutely True Diary of a Part-Time Indian" by Sherman Alexie; "The Hunger Games" by Suzanne Collins; and Stephenie Meyer's "Twilight."

"While we firmly support the right of every reader to choose or reject a book for themselves or their families, those objecting to a particular book should not be given the power to restrict other readers' right to access and read that book," said Barbara Jones, director of ALA's Office for Intellectual Freedom. "As members of a pluralistic and complex society, we must have free access to a diverse range of viewpoints on the human condition in order to foster critical thinking and understanding. We must protect one of the most precious of our fundamental rights – the freedom to read."
via MOBYLIVES » Amy Sonnie makes the ALA's top ten "Most Frequently Challenged" books list.